Holigos™ contains unique microbiome nutrients natural to your body. More than 85% of participants in our clinical study are satisfied with their results:
10x more likely to be pain free after 3 months of use
Reduces stomach pain by more than 60%

Bloating severity reduced by more than 60%
Increased quality of life
55% improvement of energy and mood
After years of research, our breakthrough ingredient called Human Milk Oligosaccharides (HMOs) works in three ways to reduce your IBS symptoms.
If you suffer from IBS symptoms, then you have an unfavorable balance of bacteria in your gut called your "microbiome".
The HMOs found in Holigos feed your good bacteria which allows them to grow, flourish and ultimately limit the impact the bad bacteria have on you leading to a reduction in your stomach pain.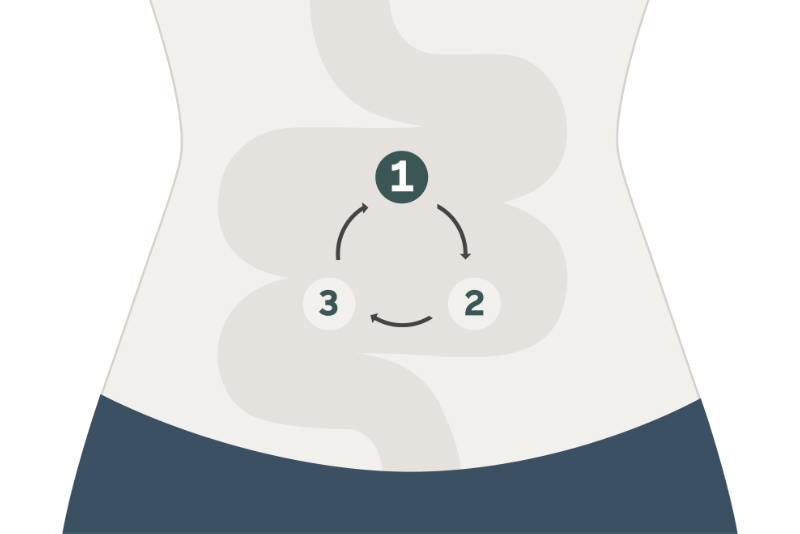 Strengthen your intestinal barrier
Our intestinal barrier is vital for keeping out pathogens, allergens and toxins. A leaky gut barrier is common among IBS patients.
A strong gut barrier requires special nutrients produced by your good gut bacteria, and HMOs double as the feed they use to produce those nutrients.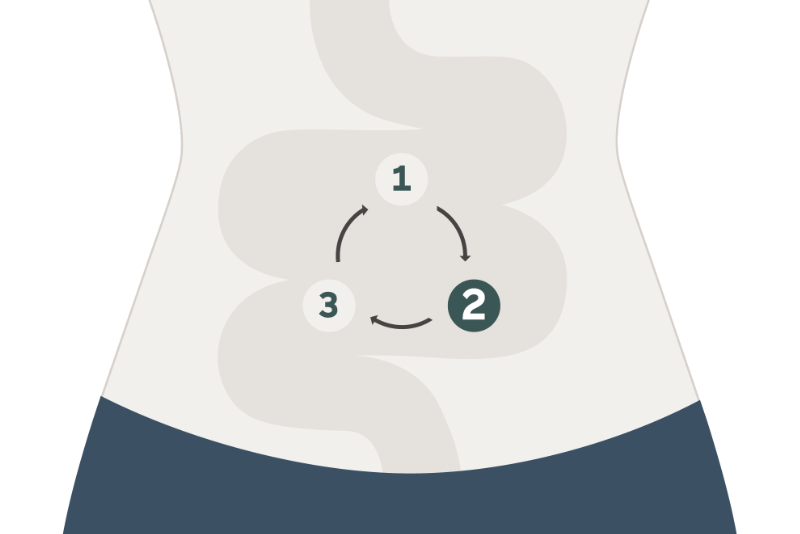 Balance your immune system
An unbalanced immune system can lead to bowel disturbances, stomach pain and disrupt your microbiome.
The HMOs in Holigos strengthen your intestinal barrier and support the production of good bacteria, which reduces the stress on your immune system. The result is a healthy gut with a balanced immune system that provides relief from abdominal pain.
Certified safe ingredients
CLINICALLY PROVEN to nutritionally manage stomach pain, bloating, constipation, and diarrhea.
SCIENTIFICALLY ADVANCED INGREDIENTS: After years of research, Human Milk Oligosaccharides were recently discovered and proven to nourish microbiome nutrients that already exist in your digestive system. Holigos is the first product to contain this ingredient mix to address nutritional deficiencies in your digestive system, strengthen your intestinal barrier, and balance your immune system to reduce your IBS symptoms.
SAFE & EFFECTIVE: Holigos ingredients are certified as safe by the FDA. Trial studies have shown that most people that take Holigos experience increased energy, reduced irritability and improved mood.
CONVENIENT & EASY TO USE: Mix with your yogurt, oatmeal, smoothie, water, or cold or warm drink. The small and convenient on-the-go stick pack fits in your purse, pocket or briefcase.
Holigos is a medical food for the dietary management of IBS
Each box contains 28 individual 5g stick packs
Proprietary blend of clinically proven Human Milk Oligosaccharides: 2'FL (4 g) and LNnT (1 g)
Ingredients are certified safe
Gluten free and no refrigeration necessary
No medicine or medication,
not another probiotic.
A new generation of
digestive care.
For Human-Natural Living