Holigos® IBS | Restore Clinical Results
Clinically proven to set your good bacteria into motion to restore digestive health.
When you're stuck in an endless cycle of diarrhea and cramping, to bloating, constipation and back again, it can often feel that you're at the mercy of your IBS.  Holigos® IBS Restore can help you change your cycle of gut symptoms to cycles of gut health.
Harnessing the nutritive power of HMOs
We mirrored nature's own proven nutrients for digestive health, human milk oligosaccharides (HMOs), to create Holigos®. HMOs are natural digestive nutrients that help build and fortify gut health in infants. Recent studies show they can have that same benefit in adults. While the HMOs in Holigos® are not from human milk, we use the identical gut-fortifying power of these nutrients to target the source of your digestive system. That's how Holigos® IBS Restore can help strengthen your gut and restore balance.
What makes Holigos® IBS Restore unique
Holigos® is unlike other products you may have tried. Here's how: Supplements, like probiotics, work by adding foreign bacteria to your gut. Holigos® is a targeted microbiome nutrient that feeds your gut's good bacteria. By selectively nourishing only your good bacteria, they can thrive and overtake the bad bacteria and perform as they're meant to. That, in turn, can help you perform the way you want to. But you don't just have to take our word for it.
Reduced bloating. Less pain and pain severity. Improved quality of life reported by users.

We studied over 300 participants and found that every single measure of IBS symptoms showed significant improvement within just one month of using Holigos® IBS Restore. In fact, over 85% of those in our clinical study were satisfied with their results.

You know better than anyone that IBS is more than just a condition. It can greatly affect your life. And when your gut's out of sync, the rest of you can be, too. Finding your equilibrium can make a difference in your whole well-being. And as you can see from our research findings and user stories — with Holigos® — that may now be possible.
---
Interested in the study details?

We studied over 300 participants in collaboration with the world-renowned University of North Carolina at Chapel Hill and found that every single measure of IBS symptoms showed a highly significant statistical improvement within just one month of using Holigos® IBS Restore.
On average, those we tested went from being classified as Severe to Mild on the IBS Symptom Severity Scale (IBS-SSS). Used by clinicians all over the world, the IBS-SSS is the gold standard in helping doctors to classify what is often an incredibly variable condition. The scale is points based — and the higher the number, the more severe the IBS.
A change of 50 points on the IBS-SSS is considered to be clinically significant. And yet, what we saw in our study was something quite remarkable.
The average reduction of symptoms in our participants was assessed at 150 points after four weeks. This is triple the value that is deemed to be clinically significant. After 12 weeks, it was even better.
In short, this means those who use Holigos® IBS Restore are extremely likely to experience a remarkable reduction in their symptom severity within one month.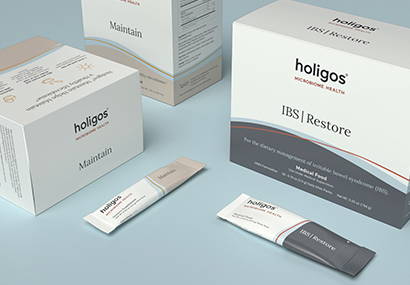 Get answers to your questions
Want to know more about HMOs, or when you can expect to see results, or even our shipping information? We have all the answers for you in our FAQs.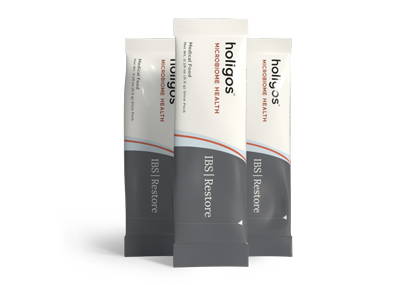 Learn how non-prescription Holigos® IBS Restore can help you change the cycle of digestive symptoms to a cycle of digestive health!